I'm sitting here in my hotel in New York City feeling a tremendous amount of gratitude. If you have ever visited Manhattan during the holidays, you understand what magical energy the city takes on. The trees twinkle with white lights, and store windows sparkle as you navigate your way around. On top of that, visiting a city that I once called home brings up some striking moments of déjà vu.
I am seeing clients on this trip, and also meeting with Hay House to celebrate the completion of my next book. In addition, David and I have been seeing family as well as catching up with old friends. I feel so grateful to have all these magical things coming together.
That is the interesting thing about manifesting. It is equal parts magic and hard work. I have been working on expanding my work and taking it to the next level, and to be completely honest, it hasn't been all magic and perfect timing. I've had curve balls and unexpected challenges just like anyone. In moments like those it is all too easy for us to stop our trajectory and maybe even give up. What I have learned over the years is that this is precisely the moment when we have to release our expectations and remain open to signs.
I love receiving signs from the universe. I think it's very important to allow the universe to surprise us in an unexpected way. Just last night we had one of those moments. After visiting with some friends, David and I were headed back to the hotel. When we got into the elevator I casually mentioned to David that we should go out and get two bottles of water for the room. When we opened the door to our room, there were two large bottles of water, a bottle of champagne, strawberries, and a beautiful piece of cake waiting for us! Next to this lovely surprise was a card from the hotel welcoming us. This is a perfect example of being open to a sign and receiving a mini miracle.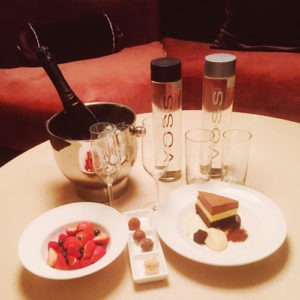 Now you may be thinking to yourself, how is a bottle of water and a complimentary gift a sign? When we are trying to expand and create more abundance in our lives, we often get very specific about visualizing exactly what we want. While it is great to be specific, the universe often responds by delivering blessings in a variety of forms. It is crucial to be grateful for any blessings that come to us, even if they do not take the form that we expect.
As an example, maybe you are trying to attract a romantic relationship in your life, and an old college friend happens to reach out you. Perhaps you are hesitant to reconnect because you had a falling out, or you don't necessarily want to revisit the past. Nonetheless, it is important to be open to abundance from the universe. With this in mind, you agree to meet up for coffee and are surprised that you have great conversation and a friendship is rekindled. Even if this does not result in an immediate relationship connection, you are showing the universe that you are open to an abundance of healthy relationships. Having an open mind in this way can often speed up the manifesting process, even if it is not directly related to our goal.
Or you might be trying to create more abundance in your life, and you get a coupon in the mail for a free meal at a local restaurant. To me, this counts as a mini miracle! These smaller signs are currents of positive energy that are trying to connect with us. In these moments, we have a choice to ignore the signs because it is not "exactly" what we are trying to manifest, or we can recognize the gift and ride the wave. Just like my spontaneous hotel room gifts, there are countless surprises waiting for you too.
As we move into the lovely holiday season, do your best to acknowledge and give thanks for any gifts that present themselves. Whether it is a kind stranger who opens a door for you or anything else, be grateful. That gratitude will turn up the volume on the gifts that come to you.
In the spirit of helping that momentum along, I am including a 30-minute private intuitive coaching session for all participants of my Mindful Manifesting course, which starts this week! Click here to check it out.
If you're curious to learn more about manifesting concepts, please click here to join me for a free, LIVE manifesting webinar tomorrow, Tuesday November 29th at 3pm PST / 6pm EST. I will be discussing my 3 essential steps to manifesting.
And if you have an example of a surprise from the universe that has presented itself in your life, I'd love to hear about it in the comments below!