I was recently honored to spend the afternoon at the Oprah Winfrey Network. Even though I just wrote that last sentence, I keep rereading it because on some level it feels like a dream.  Like millions of other people, I watched The Oprah Winfrey Show every day religiously for many years. The show and its host gave me a daily dose of laughter, tears and most importantly, insight. So as you can imagine, I was delighted to be invited to the OWN network as a guest speaker. The company occasionally arranges inspirational talks for their team; some of those speakers have included Brene Brown, Iyanla Vanzant, fitness expert Tracy Anderson, and me. Gulp.
Some of the OWN staff had recently seen me at a live event, talking about how I use color for an energy boost. They thought that it would be interesting for me to present something about this topic, so I had prepared to talk about some of the colors that I like to use. I knew that I would be feeling nervous, so I specifically wore a black sweater, which helps to ground anxious energy (this, in my opinion, is also why so many people in big cities like to wear black). As we approached the beautiful building, I did my best to maintain my center. We climbed the steps to the entrance, opened the door and walked in. Suddenly David was laughing excitedly.
"Oh my gosh, how fun!"
"What?"
On the far wall of the OWN lobby was a giant screen showing my picture and the message, "The OWN Network Welcomes Dougall Fraser!"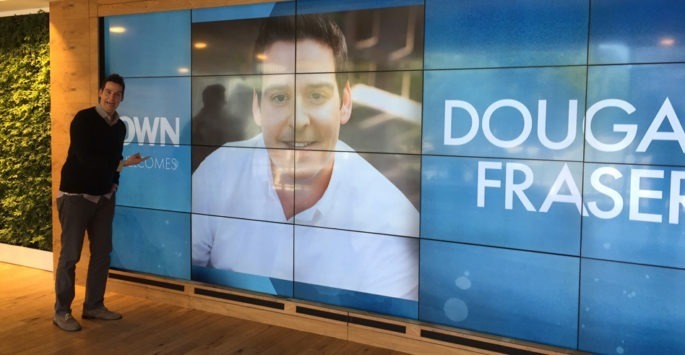 Truth be told, when I am going to a meeting or an event in Los Angeles, I try to play it cool. I've been in many waiting rooms and seen celebrities walk by. After living here for 8 years, it is a fairly common occurrence to see a famous person at a local restaurant or supermarket. Although this may sound strange, it is part of living in a city whose main industry is entertainment. But in this moment, in the OWN lobby, I couldn't play it cool. I was delighted and overwhelmed all at once.  My loving husband grabbed his phone and immediately wanted to take photos, which was a complete blur in my mind. We checked in with the front desk, and then sat on a sofa waiting where I stared at…my giant image staring back at me. My heart was racing.
Members of the OWN staff came down to greet us, and I expressed gratitude for our welcome. We were then lead upstairs to record a few videos for Oprah.com about how I use color in meditation and in my life. Luckily this comes fairly naturally to me. I love the opportunity to express my views on spirituality, and I felt fully connected to my voice.
My talk for OWN U was scheduled to be at 5:00pm to an audience of about 60 people. I had some extra time before the talk, so we went to the cafe to get a snack and some refreshments. The cafe is designed to look like a lovely lounge, with beautifully upholstered furniture on one end, and a gorgeous kitchen filled with goodies and at the other end. I helped myself to a coffee and a snack, then sat down quietly. Almost immediately, my mind filled with chatter:
This coffee is delicious, and so is this gluten free cookie. Wait a minute, are these some of Oprah's favorite things? Ohmigod, was this chair picked out by Nate Berkus? I mean, this is her office, so there's a good chance that those are Julia Roberts' favorite muffins over there.
The talk began, and I felt like my body had been plugged into an electric socket. A combination of energy, excitement and nerves was coursing through me. As I was talking, I could feel my breath getting ahead of me. It was like cosmic caffeine multiplied by 100. In that moment I started to judge myself. Critical thoughts circled through my mind.
A spiritual teacher would be calm. A REAL teacher would speak slowly. What kind of spiritual teacher starts to sweat during their presentation?
In that moment, while talking I decided that I needed a little break. I would walk the walk and do a brief, conscious meditation. A voice in my head said, Just breathe. You are allowed to pause and regroup. So without a thought I told the group that I needed a moment to stop and breathe. I took a sip of water, closed my eyes and took a few deep breaths.
I turned to the side.  Some of the OWN staff sweetly applauded and cheered for a moment. I took a deep breath and I went back to owning my power (get it, OWNing? Sorry, couldn't help it).
I am telling you this because I want to be honest with you about my process. We all experience self-doubt at some point in our lives. It retrospect, it's funny to me that I struggled with giving myself permission to reconnect. Rather than pretending that this day wasn't a big deal, or that I wasn't excited, I wanted to experience this moment as fully as possible. Part of my consciousness was focused on my inner child, that overweight gay kid that used to watch the Oprah show every day looking for inspiration. Let me tell you, he was jumping for joy that day, and I made sure to honor him by acknowledging the excitement. But another part of my consciousness was the teacher who has been doing spiritual work for over 18 years, fully intending to teach and uplift this group of people. It makes perfect sense to me that I would need a moment to regroup and breath. By grounding myself, I made sure that I was as present in that moment as I could be. The rest of the talk went quite well, and I am proud of myself for being both human and the teacher in the same breath.
How often in your life do you feel like your energy gets ahead of you? Maybe you are at a party and your shyness get in the way of your connecting with others? Perhaps your tasks at work begin to pile so high that you start to feel hopeless and disconnected from yourself.  Even joyful moments like the one that I had at OWN can be so overwhelming that our energy starts to get ahead of us.
This is where a moment of conscious energy management is paramount. Take a moment to breathe and envision yourself surrounded in orange light, just like a Buddhist monk draped in an orange robe. In my approach, orange light is the color of balance and perception.
I'd love to know your experience with this, please comment below so that I can respond!
There are so many times in our lives where we can't carve out 20 mins to meditate or clear our space. But the simple act of taking a beat to pause, breathe and reconnect can ground us so deeply that we fully embrace the energy of whatever room we are in.