Have you ever found yourself repelled by a specific color? If so, pay attention to it, because there may be a valuable message for you in this resistance. I experienced this personally today. I bought these red flowers to use as a color prop for my Hay House radio show this week. The theme was "Even Gurus Get Grumpy" and I intended to talk about how we sometimes ignore our feelings in the hopes of feeling good all the time.I planned to talk about ways to manage a healthy range of emotions.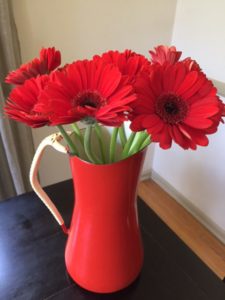 Since I see red as the color of healthy emotions and relationships, I knew that red was the perfect color to use this week. The idea of a "color prop" comes from my book. This concept basically allows you to utilize color energy throughout your day by keeping a specific color near you as a reminder. And yet, I found myself feeling really annoyed by these red flowers! Did I overdo it by putting them in my grandmother's red "Brady Bunch" pitcher? Perhaps, but I also started to ask myself what message I could be missing.
When I got quiet and meditated on red, the answer became clear. I have a very big week ahead of me. I will be taping a national TV show to promote my book, and I have been feeling very nervous about it. I will be reading for a celebrity on camera, and I want everything to go well. I want to be calm and confident. I want to express myself clearly, so that I can properly convey the concepts about color that I've worked so hard on. And to be completely honest, I want to look cute on camera.
In the days leading up to this week, I was denying the fact that I felt nervous about this to myself. I kept pretending that I felt 100% confident, in the hopes that my subconscious would cooperate. But in doing this, I forgot one of my major beliefs: that it is always better to acknowledge a full range of emotions, even if they are not what we want.
So here I am, feeling vulnerable and nervous. Owning this feeling frees me from pretending that it does not exist. And this entire revelation came about as a result of hating these red flowers. This is the beauty of color energy.
Save
Save
Save